Everything You Need to Know About Studying Abroad in China!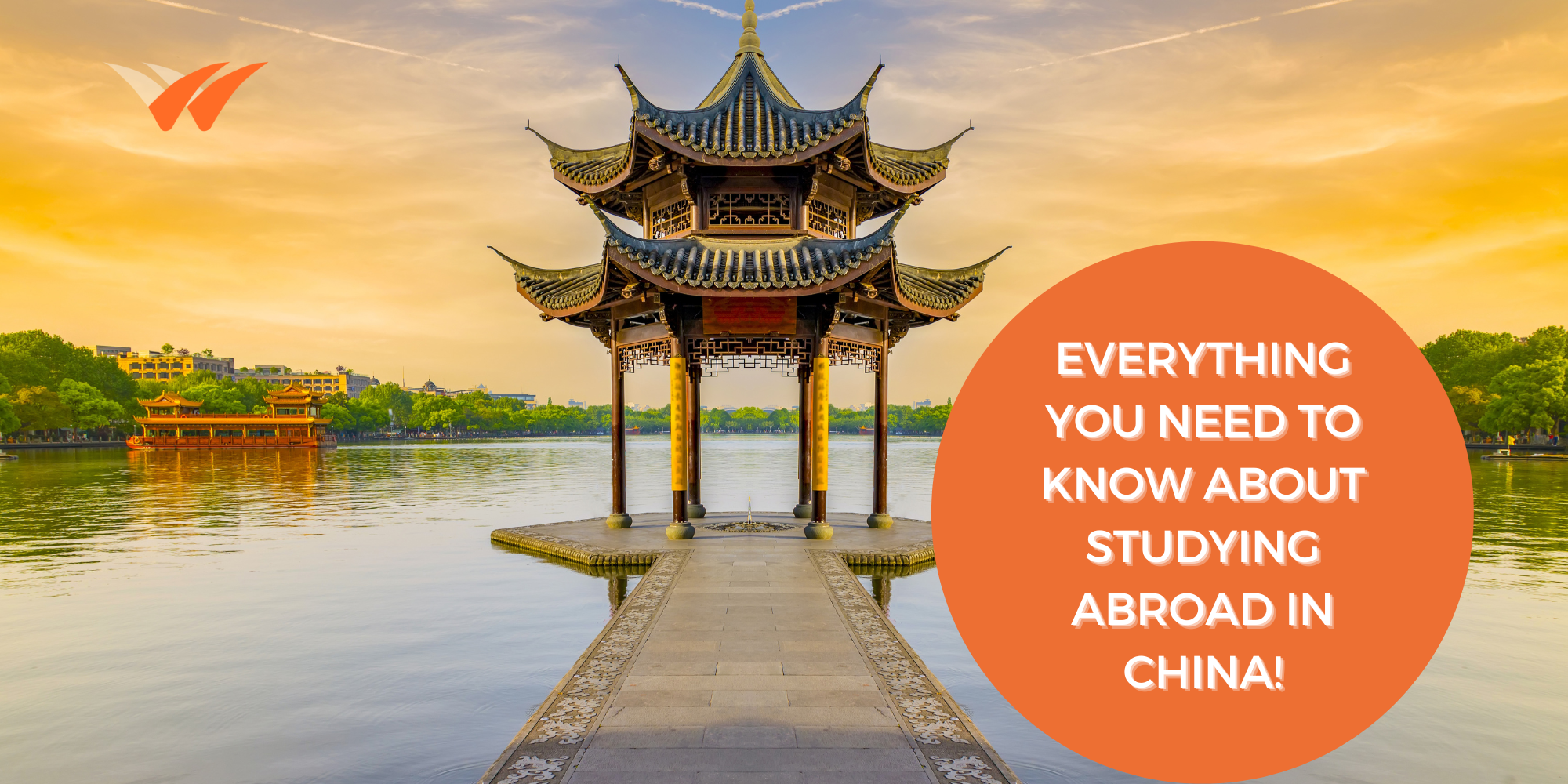 Are you looking to earn an affordable Bachelor's degree abroad at a top university? Are you looking for a unique experience as an international student?
If so, China might be one of the best study destinations for you. Compared to western countries, application processing in China is relatively easy. Similarly, tuition fees at Chinese universities are 90% cheaper compared to universities in the US, UK, Canada, or Australia. Whether you study at public or private universities, you can apply for scholarships to help you alleviate your financial burden.
China, also known as The People's Republic of China, is a beautiful and populous country located in Eastern Asia. The country, one of the world's first civilizations, holds the longest written history of 3,500 years. The third largest country by area shares neighboring with fourteen countries and is home to 56 ethnic groups.
Studying in China is related to quality education and a wonderful experience (including culture, rich history, language, and lifestyle) that you gain and feel. You can experience geographic diversity like no other country during your holidays. You can enjoy hiking to numerous mountains and big ports and roaming around picturesque cities, valleys, or even deserts.
Since China is one of the most rapidly developing countries in the world and holds the world's second-largest economy, it has attracted thousands of international students. The country, famous as The Factory of the World, welcomes over 500, 000 international students annually. Since the COVID-19 pandemic, the country has gone under a strict lockdown but is now opening its border. So, now is the best time to come to China to study!
Since China welcomes hundreds of thousands of students from all over the world, it won't be wrong to say that the country is a diverse melting pot of cultures. So, studying in China is like taking part in global celebrations.
Table of contents:
Quick Facts and Figures of China
Studying in China: Student Visa and Permits
Documents Required to Apply for a Chinese Visa Application
Studying in China: An Entire Application And Entry Process
Quick Facts and Figures of China
Capital city: Beijing
Language Spoken: Mandarin
Area Size: 9, 596, 961 km2
Population: 1, 439, 323, 774
Academic Year: March- October
Currency: Renminbi (Yuan; ¥)
Calling country code: +86
Time Zone: China Standard Time (UTC +8)
International Students: 490,000 (2018)
About Studying in China
China is a famous study destination after the U.S.A, Australia, Canada, and the U.K. It is the leading study destination in Asia in terms of higher-quality education. Undoubtedly, home to almost 3,000 higher education institutions and colleges is one of the important centers of attraction for international students. Peking, Changhua, and Fudan universities are among the Top 200 universities in the world. Also, the affordable tuition fees have encouraged students to choose China.
Since public universities are mostly entirely funded by the Chinese State or governmental agencies, and non-governmental organizations fund private universities, there are numerous scholarships available to students, and is relatively easy to secure compared to universities in a western country.
Reflecting the history, the country first welcomed 33 international students from East European countries back in the 1950s, and the number skyrocketed to roughly 490, 000 international students by 2020. Quality education and a higher education system that meets all international stands attract international students. The country is also well-respected for establishing strong ties and agreements of academic recognition of the courses they offer with more than 180 countries.
Did you know China has the largest higher education system around the globe, offering more than 4,000 degrees in English?
As safety and security are among the most concerning subjects for international students, China can be your ultimate option. The country is regarded as one of the safest countries in the world. The crime rate is very low. Chinese people strictly obey the laws and prioritize respecting elders and the state.
Being a country with a high economic growth rate, there are many job opportunities for international students. Aren't you thinking of getting a job upon graduation? Why not?
Not only are tuition fees affordable, but even the cost of living is lower than in other leading countries like the United States, Canada, European countries, the UK, Japan, Singapore, and Australia. There are varieties of options for housing and living that are in line with your budget. Most of the universities guarantee on-campus housing for international students with all the required amenities and the yearly rental cost ranges from $600 - $1,000 USD.
Education System in China
Like any other country, the Chinese education system also offers diplomas, bachelor's, master's, and doctorate degrees. The degrees are characterized by their hierarchical structure. The Ministry of Education of the People's Public of China is responsible for education and language. China leaves no unturned stones in terms of education. With the westernized educational model, the country stays updated and does screening over screening to provide quality education to its citizens as well as to international students.
Bachelors' Degree
The bachelor's degree in China generally lasts for four years. However, training in medicine and surgery takes up to six years of education. Since the country welcomes thousands of international students, so most universities offer bachelor's degrees in English as well. WiseAdmit has partnered with many top universities to provide affordable bachelor's degrees to students all over the world.
In order to study bachelor's degree in China, international students must have completed at least twelve years of formal education. The international students must prove evidence of English language command. Along with the application for the undergraduate degree, the students should also provide different supporting documents based on the program they are applying to.
Masters' Degree
The Chinese education system divides the master's degree into two categories; taught or course-based and research-based. International students must complete bachelor's studies to apply for a master's degree. The length of the graduate degree is around two years, but with some exceptions, the program can extend to up to three years. International students must provide English language proficiency test scores to study in English.
Doctorate Studies
In the country with the most Ph.D. graduates worldwide, doctorate studies are three to four years long. To apply for doctorate studies in China, completing master's studies and entrance examinations are two primary academic criteria. The first two to three years of doctorate studies are based on teaching, while the last year is separated for academic dissertation writing.
Studying in China: Student Visa and Permits
Through our AI-enabled technology, WiseScoreTM you can check if you qualify for a scholarship and shortlist programs based on what you want to study. Shortly after shortlisting the courses and universities, you are eligible to apply; you will receive an acceptance letter from your preferred university. Once you receive the acceptance letter, it's time to apply for a Chinese student visa. While applying for a Chinese student visa, you need to know whether you should apply for an X1 or an X2 visa.




The X1 visa is for international students planning to study in China for more than six months, whereas the X2 visa is for those who plan to study short-term courses with duration less than six months.

For your information, after arrival in the country within 30 days, you need to apply for a residence permit. You need to submit the application for the residence permit at the division of the exit-entry administration of the local public security bureau.
Documents Required to Apply For a Chinese Visa Application
• Visa application from your local Chinese embassy or the university you are enrolled at. Please remember to bring original documents to China.




• Valid passport (at least 6-12 months of remaining validity).




• Recently clicked passport-sized photos.




• Acceptance letter or admission notice from your university.




• Physical Examination Form




Note: The visa application processing time is fast and takes about a week only.

As an international student, you must visit the Health Quarantine Bureau to confirm the physical examination form after arriving in China. If you fail to provide the physical examination form, you must examine it at the local health bureau.
Studying in China: An Entire Application And Entry Process
Checking if you are eligible for a certain program at a certain university can be time-consuming and confusing. Thus, WiseAdmit can help you ease the process to apply on whichever program you are interested in.
Choosing the subjects
Most international students end up choosing courses that are not their best fit. Also, checking the eligibility criteria one by one in every university can be time-consuming and overwhelming. So, you can use our platform, where you can enter all your information regarding academic backgrounds and our AI-enabled matching technology will filter the courses and universities that best fit you.
Checking Admission Requirements
As an international student, one should always be aware of particular requirements depending on the academic level of the degree. You need to gather the general ideas of your chosen program curriculums and be clear on what is expected from you and what you expect from the universities to start admission.
Starting the paperwork
Once you get a list of best-fits courses and universities, you start your documentation procedures. If you have a problem with where and how to start your documentation procedure, you can schedule a free 20 minutes consultation session.
International students should prepare a personal statement explaining their reasons for studying a particular course. Besides this, you need to submit copies of your passport, passport pictures, graduation certificates, a non-criminal record certificate, medical examination certificate, sometimes recommendation letters, and English language proficiency test scores to apply for English-taught programs.
Submit your application
Our platform, enables you to submit your application to many universities simultaneously, saving time and making your procedure hassle-free. Application process is straight forward. First check your eligibility for admission and scholarship, you will be matched with the best-fit programs and universities according to your preference and eligibility. Then you can start filling in the application form. The last step is to upload required documents. Most of the universities require students to pay the application fee, you can quickly do so after completing your application on WiseAdmit.io.
Apply for Visa/Residence Permit
Once you complete the application procedure for your chosen Chinese universities, and receive your offer and visa application document (JW201 or JW202 form), you are officially an international student. Applying for a Visa/Residence Permit should be your next step. Gather all the documents you require to apply for the Chinese student visa including the admission offer and JW201 or JW202 form and start your visa procedure. Some universities will require you to pay a part of the tuition fee (even if you receive scholarship as a deposit). Contact the nearest Chinese embassy as soon as possible to begin your Chinese student visa procedure.
Health Insurance Arrangement
Unfortunately, the Chinese healthcare system cannot provide free health services to international students; every international student must legally obtain private medical insurance. Some universities purchase the insurance for the students and for some universities you have to pay yourself. The yearly cost for health insurance ranges from $80 - $150 USD. Choose the medical insurance plan based on your budget and needs. Some of the famous Chinese healthcare insurers are:
China Taiping Insurance

China Life Insurance

China Pacific Insurance
Arrival in China
After your visa and medical insurance are ready, book your flights and fly to China. If you need any pre-departure informative sessions, we can help you!! Our team in China can assist you with accommodation booking and settling down after you reach China. Just pack the necessary clothing, fill yourself with positivity, and start your new journey to China and graduate from one of the top Chinese universities through WiseAdmit!
Conclusion:
China is an increasingly popular destination for international students who want to experience everything this fascinating country has to offer—from its rich history and culture to its booming economy. And with relatively low tuition fees and cost of living when compared with other countries, it's no wonder that more and more students are choosing to study in China each year.

Whether you want to learn Mandarin Chinese or experience first-hand all that China has to offer, there are many reasons why studying in this Asian powerhouse might be the right choice for you. So if you're thinking about taking your studies abroad, be sure to add China to your list of options!
________________________________________________________________________________________________
Note: Applying to English-taught undergraduate program in China has never been this stress-free! WiseAdmit is a game-changing platform that eliminates guesswork, wasted time, and wasted application fee from college admission.
Click Here to find out your eligibility for admission and scholarships in less than 3 minutes!