2023 Chinese Government Scholarship CSC: Find out how you can get it!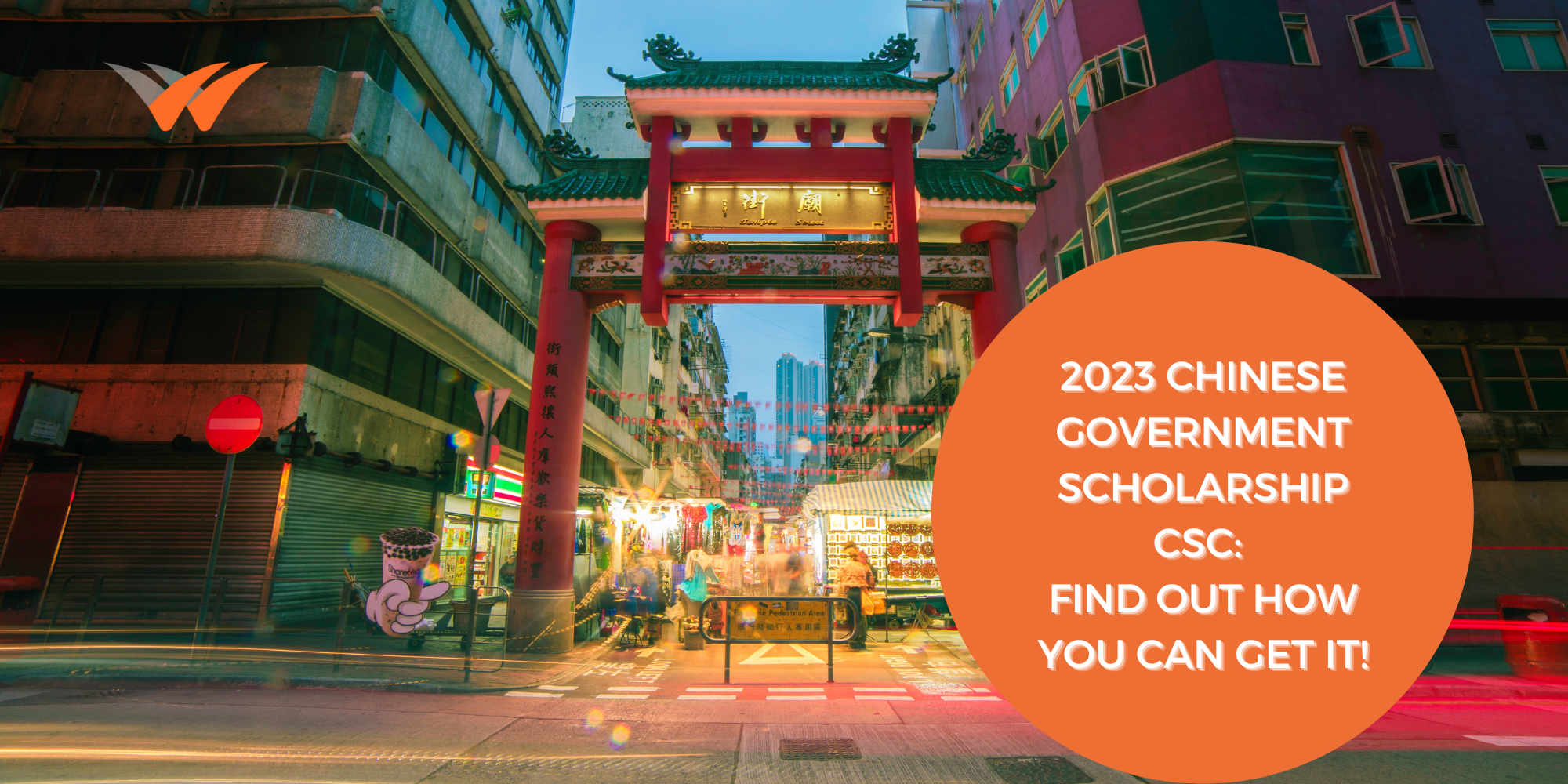 When it comes to finding fully-funded scholarships, there really are not a lot of great options out there. However, as the world's most populous country and with a rapidly growing economy, China offers many scholarship opportunities for students from all over the world.
There are numerous scholarship programs that are designed to reward academic excellence, promote cultural exchange, or support students who wish to study in China. Some of the most popular scholarships for international students include the
Chinese Government Scholarship Program, the Confucius Institute Scholarship Program,
and
the Huawei Scholarship Program.
So if you're looking for a unique and affordable study-abroad destination with a fully-funded study opportunity, China should definitely be on your radar! Keep reading, in this post, we will take a closer look at one of the most popular types of scholarships available in China, i,e, Chinese Government Scholarship.
Table of Content
1. What is the CSC Chinese Government Scholarship program and what are its benefits?
Chinese Government Scholarships are awarded by the Chinese government to encourage international students to study in China. The scholarship/grant covers bachelor's degree programs in China, master's degree programs in China, or doctorate (Ph.D.) degree courses in China's best universities in a variety of subjects taught in English and Chinese.
There are a variety of benefits that come with being a Chinese Government Scholar, such as tuition waivers, stipends, and health insurance. One of the main benefits of the Chinese Government Scholarship is that it covers all expenses related to studying in China, which can be a significant financial burden for international students.
Additionally, Chinese Government Scholarships also provide recipients with an opportunity to experience Chinese culture and language firsthand. While living and studying in China, Scholars will have the opportunity to meet new people and learn about a different culture. For many students, the Chinese Government Scholarship program is a once-in-a-lifetime opportunity that should not be missed.
2. Who is eligible to apply for the scholarship program and how do you qualify?
The scholarship program is open to international students who are enrolled in an undergraduate or graduate degree program at a university in the United States. To be eligible for the scholarship, students must have a minimum cumulative GPA of 3.0 and must be enrolled in a full-time program. The scholarship is awarded on a rolling basis, and students can apply at any time during their studies. However, preference will be given to students who submit their applications early.
CSC Scholarship Eligibility Criteria:
• You must be within the program's age restrictions.
• Submit your applications on time.
• Should have been accepted to a Chinese university via the CSC Scholarship program.
• To study in China, applicants must be physically fit and healthy.
3. How do you go about applying for the scholarship, including the required documents and submission process?
The Chinese Government Scholarship is a fully-funded scholarship provided by the Chinese government to international students. To apply for the scholarship, students must first consult with their home institution to see if they are eligible. If they are, they will then need to complete an online application form and submit it by the deadline. In addition, they will need to provide several documents, including a personal statement, transcripts, and two letters of recommendation.
Once all of the required materials have been submitted, students will need to wait for a decision from the Chinese government. Notification of scholarship award decisions is typically made within two months after the submission deadline. Students who are awarded the Chinese Government Scholarship will be notified via email and will then need to begin the visa application process.
The CSC Scholarship, like any other study abroad scholarship, has an online application mechanism in place to collect applications. It is a requirement for all overseas students who wish to study in China on a scholarship must finish the process. The CSC online application is not a substitute for university admissions; applicants must complete both processes on time to prevent delays and disappointments. Applicants must send hard copies of their documents to institutions because the CSC Scholarship is managed through quota systems at all participating universities.
4. What are the selection criteria used by the scholarship committee in assessing applications, and what factors are taken into account when making a decision on who to award scholarships to?
Chinese Government Scholarships are awarded to outstanding international students who have demonstrated academic excellence and a commitment to Chinese culture and language. The selection committee uses a number of criteria when assessing applications, including academic achievement, Chinese language proficiency, and personal essays. In addition, the committee takes into account the applicant's history of involvement with Chinese culture, as well as their future plans for Chinese study or research. Ultimately, the Chinese Government Scholarship is awarded to those students who best meet the criteria and who show the greatest potential for academic success and cultural exchange.
5. How will you know if you have been successful in your application and what happens next if you are awarded a scholarship?
Chinese Government Scholarships are awarded to international students who demonstrate high academic achievement and potential. The scholarships cover tuition, room and board, and living expenses for the duration of your program. If you are awarded a Chinese Government Scholarship, you will be notified by the Chinese Embassy or Consulate in your home country. You will also receive an official Letter of Award from the Chinese Ministry of Education. After you have been notified of your award, you will need to complete and submit an acceptance form.
Once your acceptance form has been processed, you will receive a Visa Application Form for Study in China (JW202). This form is required in order to apply for a student visa. You will need to submit the JW202 form, along with all required supporting documents, to the Chinese Embassy or Consulate in your home country in order to apply for a student visa. Once you have been issued a student visa, you will be able to travel to China and begin your studies.
6. What are some of the challenges students have faced while studying in China under this program, and how did they overcome them?
Chinese Government Scholarship students have faced a range of challenges while studying in China. These include difficulties with the Chinese language, cultural adjustment, and the Chinese education system. However, Chinese Government Scholarship students have shown great resilience in overcoming these challenges.
Through hard work and perseverance, they have made great progress in their studies.
Moreover, many Chinese Government Scholarship students have found ways to connect with Chinese society and culture, despite the challenges. For instance, some students have joined Chinese student associations or volunteered in local communities. Others have taken part in Chinese language and cultural exchange programs. By engaging with Chinese society, these students have made their experience of studying in China all the more valuable. Besides, students can meet talents from all over the world and have lifelong networking opportunities.
Conclusion
There are many scholarship opportunities available for international students wishing to study in China. The Chinese Government Scholarship program, the Confucius Institute Scholarship, and the Fulbright Program are all great options for funding your studies in China. You can visit this link to apply for a Chinese Government Scholarship. While you can apply for it, the competition is fierce for it and students might risk having a gap year while waiting for it. Alternatively, you can apply through Wise Admit and ensure up to 40% to 100% partial/ full scholarship in one of our top-ranked partnered universities. You can check if you are eligible through our WiseScore or check offered programs on our website link.
_____________________________________________________________________________
Note: Applying to English-taught undergraduate program in China has never been this stress-free! WiseAdmit is a game-changing platform that eliminates guesswork, wasted time, and wasted application fee from college admission.
Click Here to find out your eligibility for admission and scholarships in less than 3 minutes!