How to Choose the Best University in China for International Students?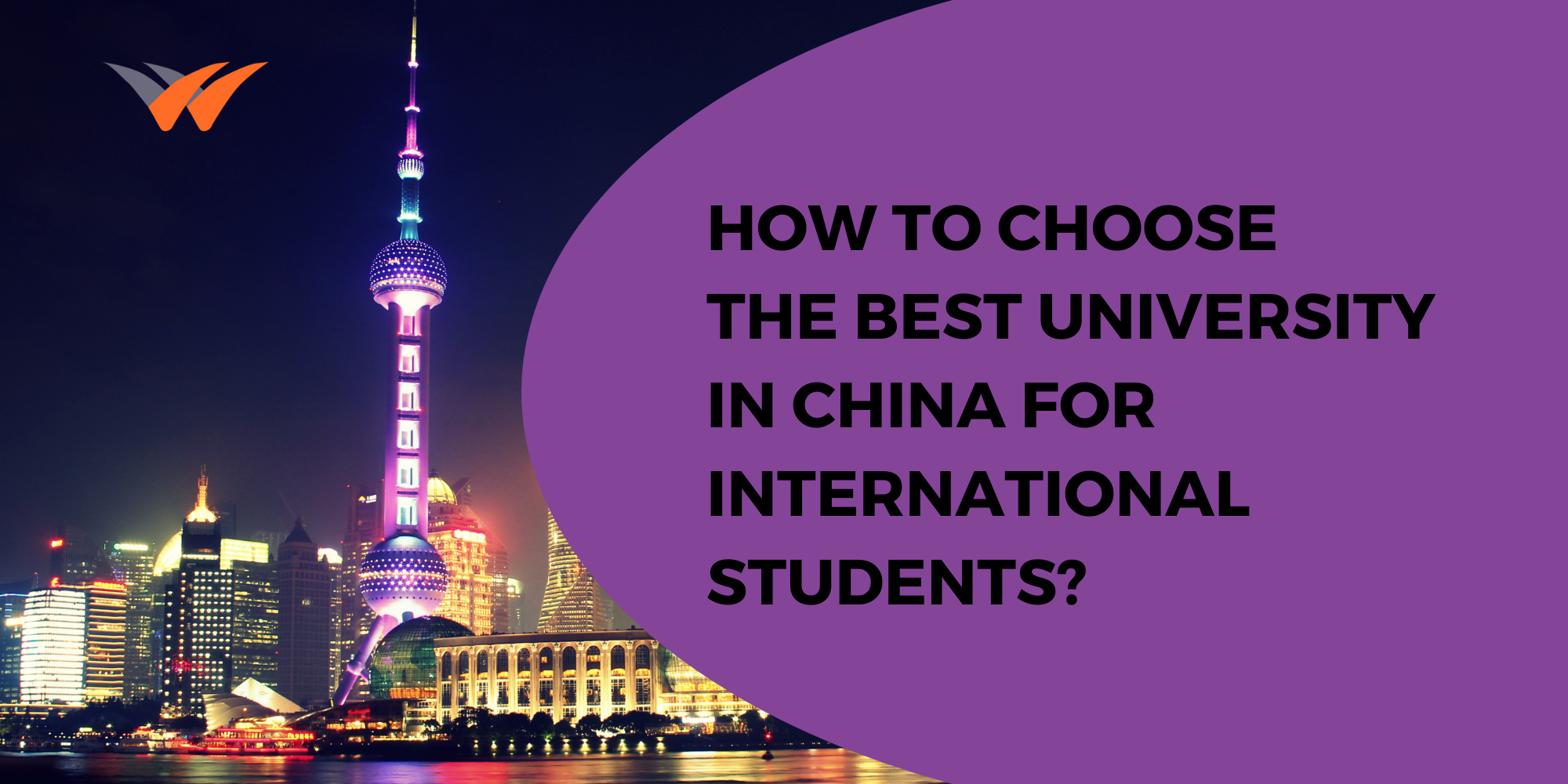 The most difficult decision that overseas students must make when studying in China is deciding which university is ideal for them. The most frequently asked question is, "What is the best Chinese university in my area of interest?" Alternatively, how can I choose the greatest university in China for my studies? The answer is not straightforward; nonetheless, there are some factors to consider while selecting a Chinese university to study at.


With so many universities in such a vast and diverse nation as China, picking on a single university to attend is a challenging task. The experience of international students in China will be impacted by the universities they attend. This is essential, and we urge international students to pay close attention to the following problems.


First and foremost, overseas students must decide what they want to achieve from studying in China. What do overseas students want to accomplish? Some desire to advance their professional careers and reside in China. Others, on the other hand, will wish to learn about the culture as part of their vacation in order to advance their careers at home. Most foreign students interested in studying in China are inspired by the opportunity to accomplish more with a restricted budget, a unique cultural experience, or even the opportunity to try their hand at business. This page will give foreign students more information on when, how, and why to choose international-level schools in China.
1. Expectations of international students- What do they want?
Previously, many universities were strictly governed by the government, but Chinese higher education institutions now enjoy a great degree of independence in terms of curriculum development. As a result, there is a more enormous variety of academic alternatives available, making studying in China more enticing to overseas students.
China has a lengthy history and is the world's oldest civilization. The country is home to a diverse spectrum of peoples and cultures, which has resulted in various customs and beliefs, so overseas students can expect to see a lot. China's economy is now the fastest expanding in the world. All of these things contribute to China's allure as a study location.
2. Courses or programs of interest
The most important decision for overseas students is deciding which course to pursue. Consider majors for overseas students, and then look for universities with a stronger reputation for teaching these disciplines. It is futile to choose a university first and then a course of study later. International students will make tremendous errors if they don't fit in.
3. University Ranking and Reputation
After filtering and locating colleges that provide overseas students' selected courses or programs, university ranking is one of the most essential indicators to assess. This is a rough estimate of the University's reputation, but it does not guarantee quality. International university rankings, such as the QS University Rankings and the Times Higher Education Rankings, are reliable sources of information.
As a result, international students will want the assistance of a professional Admission Service provider to assist international students with the Chinese Admission Process, such as WiseAdmit, which is free for students.


4. Location, Facilities, Design, and Lifestyle on Campus
Is the university close to or far from the city center? International students would miss out on vital networking chances if their college is located distant from the city core. International students should also consider the atmosphere and facilities of the university. If overseas students prefer to live on campus, seek a university that provides this option. Living off-campus can also provide useful experience and assist international students in becoming more self-sufficient. It's worth mentioning that renting an apartment will be more expensive than living on campus, while rent prices are still low when compared to other cities.


5. City and University Location
Choosing the right environment to study in China, as well as the right city to study in China is crucial. If international students wish to meet extra ex-pats already living in China and build their international student network, Beijing, Shanghai, Nanjing, Shenzhen, Guangzhou, and Tianjin are all ideal destinations to visit. Cities like Zhengzhou, Qingdao, Jinan, Jilin, Dalian, and Hainan, on the other hand, are ideal for immersing oneself in true Chinese culture.
Climate, everyday living costs, and environmental factors should all be taken into account when making an overseas student decision. Larger cities have higher rental rates, but overseas students won't have to worry if they earn a full Chinese Government Scholarship.


6. Facilities in the University
The University's facilities are another factor that may affect international students' decisions. Although it is not required, applicants who appreciate athletics should inquire about the university's athletic resources. Some universities offer housing, library services, hobbies, groups, clubs, workshops, and other amenities. Every university has its unique set of activities and goals. The amenities of a university will have an impact on student exposure and experience.
7. Tuition Fees, Budget, and Scholarships
It is crucial to examine international students' finances and evaluate how important fees are to their academic choices. Tuition at prominent universities such as Peking University, Tsinghua University, Fudan University, and Beijing Normal University is often very high. Don't be misled, though; great Bachelor's and Master's degree programs may be found in cities including Nanjing, Qingdao, Hainan, Dalian, and Chongqing, among others. The budget of overseas students will also determine the type of university to which they should apply. This does not apply to students who have obtained Chinese scholarships in part or in full.
Similarly, at Chinese universities, foreigners can apply for over ten different types of scholarships. Scholarships are provided by the government, colleges, and local governments, among others. The number of applicants to the university determines the success rate of overseas students. However, we strongly suggest overseas students submit their application materials as soon as feasible.


8. Programs taught in English or in Chinese
There are both English-taught and Chinese-guided programs. Applicants with Chinese proficiency up to HSK5 or HSK4 may choose courses taught in Chinese. Applicants who are not fluent in Chinese may choose English-taught courses, but there is also an option for overseas students to improve their Chinese for a year before starting their studies.


Conclusion
We suggest students make an informed choice based on the course of study that overseas students want to follow. Don't make the mistake of choosing the same program as an international student's best friend because foreign students can't live without her, because that study may not be what international students want or prefer. Even if international students end up in a huge city where they don't know anyone, international students make new friends. Concentrate on international students' studies, and most importantly, enjoy their student years because they are the best!
_________________________________________________________________________
Note: Applying to international students' preferred undergraduate program in China has never been this stress-free! Wise Admit is a game-changing platform that helps prospective students find the best universities and apply for free to the top-ranked programs.
Click Here
to find out where international students qualify to study in less than 60 seconds.