6 Months Pre-Engineering and Pre-Business Foundation Program in China!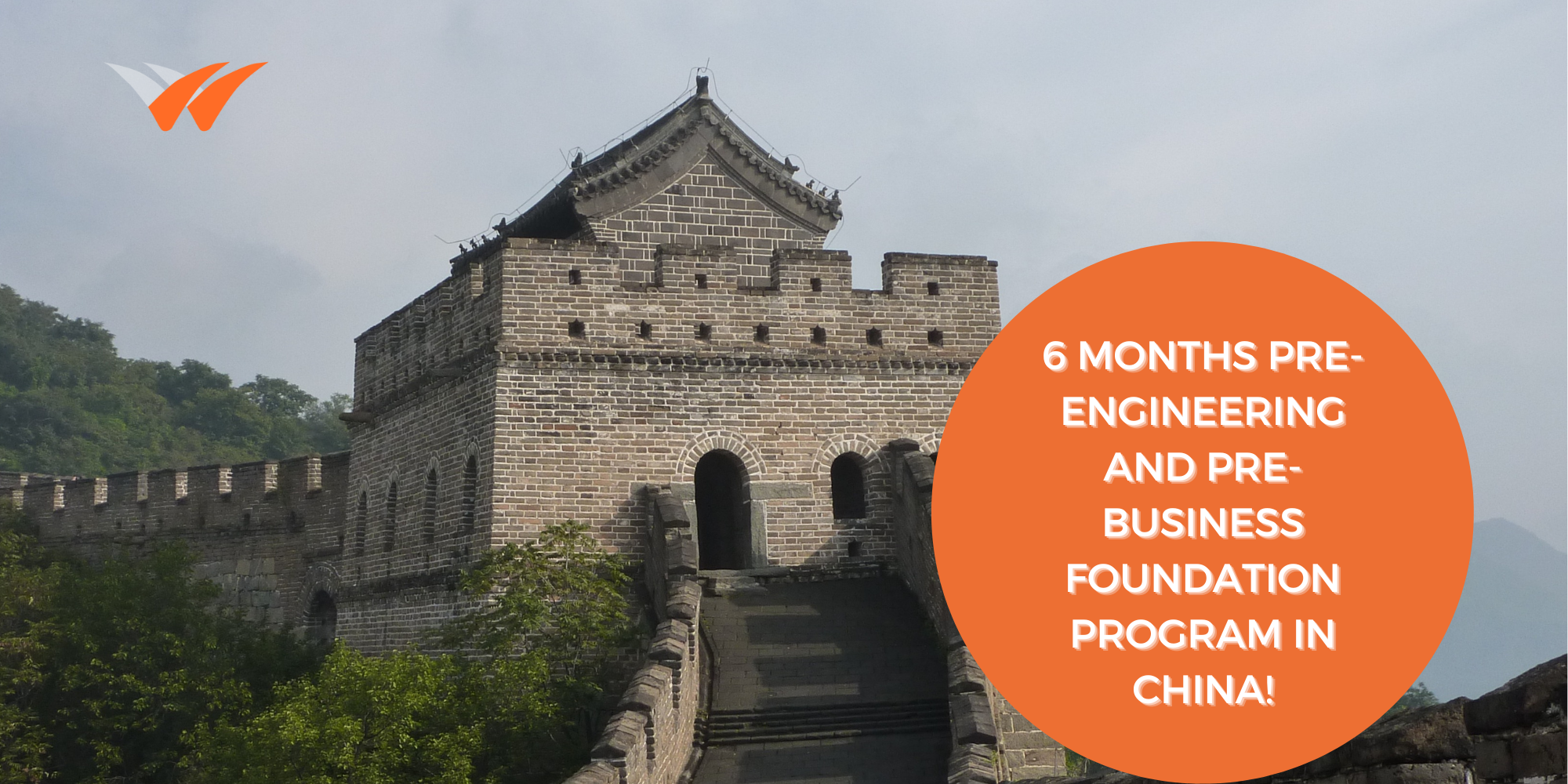 Are you searching for a university abroad that is both affordable and top-ranked? Learn more about the Foundation Program offered by NUAA and get direct admission for your undergraduate degree.
This article explains why the Pre-Engineering/Pre-Business: Foundation Program offered by Nanjing University of Aeronautics and Astronautics is your direct pathway to studying abroad and getting your dream degree in China.
Table of contents:
So, why study a Foundation Program?
About the Foundation Program offered by NUAA and costs
So, why study a Foundation Program?
China has been increasingly climbing the list of top study destinations among international students. In fact, the "Study in China" initiative was launched in 2010, with the intention of attracting 500,000 overseas students by 2020; of which the overall number of foreign students in 2018 was already around 490,000. This shows the Chinese strategy of attracting international students and its welcoming nature. After the setback caused by the Covid pandemic, the good news is that Chinese universities are looking for students from all around the world for higher studies to charge their economic growth.
The courses included in any Foundation Program are intended for all individuals with a variety of educational backgrounds who require an additional year of study before beginning their undergraduate degree. This foundation course is linked to a variety of excellent degrees in engineering and business management degrees.
There are many benefits of studying foundation program. One of the main ones is that these programs have a more practical approach to education. This means that students get experience as well as knowledge before they join in a modern technologically-abled study environment in a university.
If you have just graduated from high school, then a foundation diploma program can be the perfect bridge to your college/bachelor's degree. Foundation programs involve a combination of theoretical learning and practical experience. Students get the opportunity to apply theoretical knowledge, practical knowledge, and networking made during the period. Some programs can be completed in a year or even a few months. Regardless, such programs help students to learn new skills and to enhance their career prospects, along with getting enrolled in the top university for an undergraduate degree. To study it in China, particularly at NUAA, the following are some of the many benefits that international students can acquire:

1. It prepares the student for the undergraduate degree he or she will pursue and makes him or her a strong contender for scholarships on tuition costs and earn provisional benefits such as on-campus accommodation during their stay, etc.
2. Students are permitted to work 20 hours a week off campus.
3. Upon graduation, there are more than 3000 companies that visit the university each year for placement, making the graduates highly employable in top companies.
So, continue reading the article to learn the details of this program.
About the University
Nanjing University of Aeronautics and Astronautics (NUAA, simplified Chinese: 南京航空航天大学) is an esteemed University in China that specializes in Aircraft related studies (ranks 3rd globally) and other engineering streams as well. NUAA is a major public research university located in Nanjing, Jiangsu province, China. It is a Project 985 university, one of the top universities in China; also one of the partnered universities of WiseAdmit. You can check the university profile here.
About the Foundation Program offered by NUAA
The 2023 foundation program is all you need to have for you to be all set and ready for the undergraduate degree program of your choice at NUAA. The word foundation in itself has its importance in any field it is used. As the renowned author, G. B Hinckley once said- "You can't build a great building on a weak foundation."; the same thing is true with your education and career as well. The 2023 foundation program is an ideal initiative introduced by NUAA, which ensures a strong foundation for students from any background to be ready for the undergraduate program and get the best learning experience out of it. It is a 6-month diploma program in which students learn to apply their core knowledge by doing laboratory experiments and conducting research on aircraft system design problems. The research and practical labs on campus are among the best in the world. The tuition fee for this semester long program is around $770 USD. You can check the program profile to learn more.
Rankings
• 3rd in Aerospace Engineering (Shanghai Ranking, 2022)
• 32nd in Mechanical Engineering (Shanghai Ranking, 2022)

• 81st in Electrical and Electronics Engineering (Shanghai Ranking, 2022)

• 180th in Computer Engineering (Shanghai Ranking, 2022)

• 123rd in Engineering (Shanghai Ranking, 2022)
Core Courses of Foundation Program
• English Fundamentals
• Chinese Culture and Introduction to China
• Mathematics
• IT Essentials (Lab and course work)
• Physics/ Economics

• Field Visit/Industrial Visit
Main Learning Objective
The main learning objectives of this course are as such:
• Priority for partial scholarships during undergraduate degree.
• Learn Chinese Culture(Trips to different scenic spots and other activities)
• Transfer up to 6 credits toward your Undergraduate Degree Program
• Direct admission to NUAA's UndergraduateDegree Program.
• Guaranteed on-campus accommodation
Academic and Future Prospect
The employment rate of NUAA graduates is exceptionally high, with the year-end employment rate for bachelor's grads being above 98%. Every year, international companies like Airbus, GE Aviation, COMAC, Honeywell, etc. hire NUAA graduates. As mentioned in the article, taking this 6 months diploma course makes an applicant a strong candidate for not only getting a chance to study at NUAA but even ensuring a partial scholarship in tuition fees along with other provisional benefits like guaranteed on-campus housing.
Conclusion
China is becoming an increasingly popular destination for international students who wish to immerse themselves in everything this fascinating country has to offer, from its rich history and culture to its thriving economy. And, with comparatively low tuition fees and living costs as compared to other nations, it's no surprise that an increasing number of students choose to study in China each year. The Foundation Program provided by NUAA will enable you to get direct admission at one of the top-ranked bachelor's degrees with guaranteed scholarships along with different other provisional benefits.
____________________________________________________________________________________________________
Note: Applying to English-taught undergraduate program in China has never been this stress-free! WiseAdmit is a game-changing platform that eliminates guesswork, wasted time, and wasted application fee from college admission.
Click Here to find out your eligibility for admission and scholarships in less than 3 minutes!