Proven Tips and Tools to Get a 5.0 GPA as an Overseas Student in China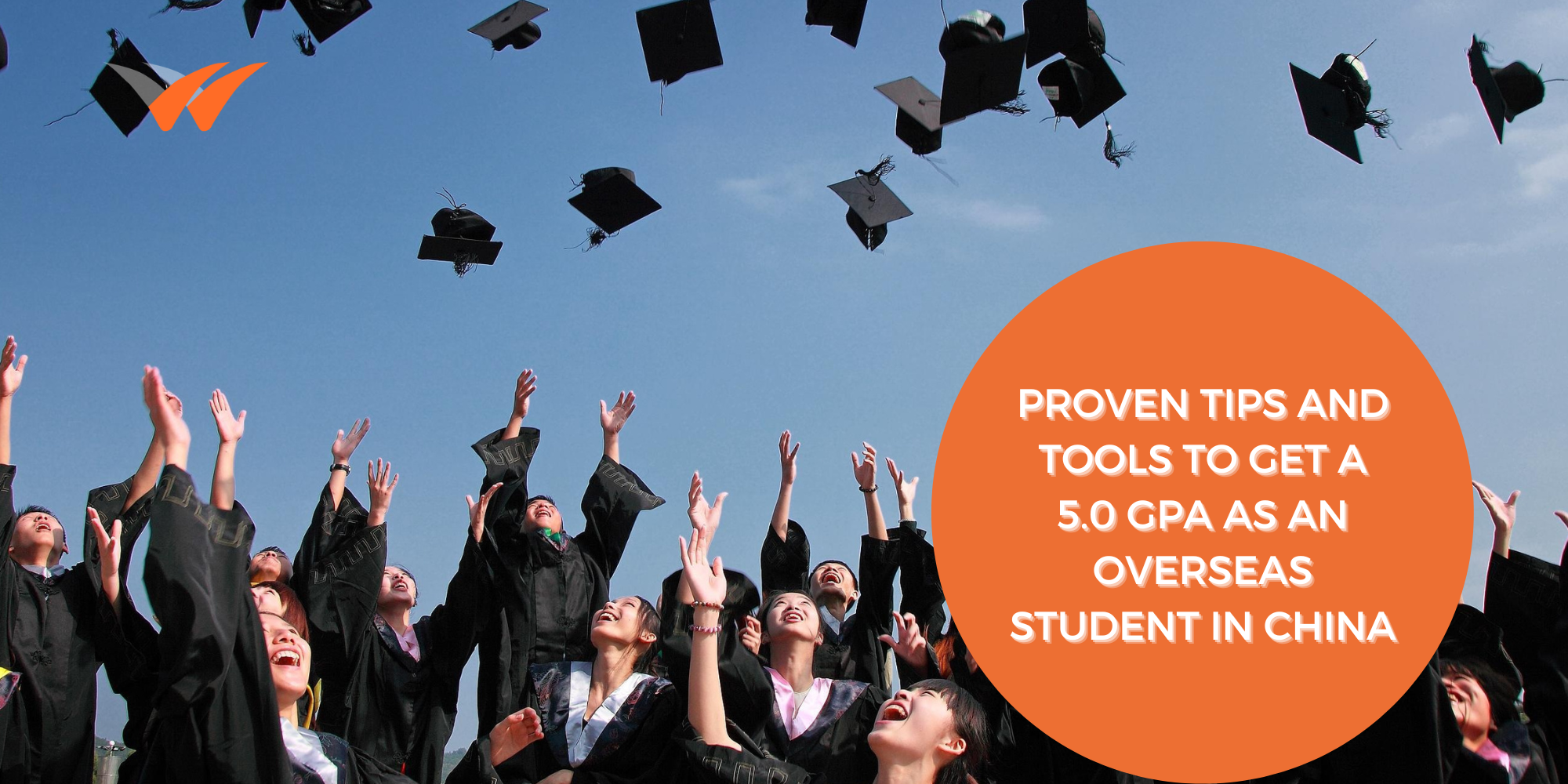 As Nelson Mandela once said- "A winner is a dreamer who never gives up", a student from any country and background can not only land a place at a top-ranked university in the world but also excel at it with a 5.0 GPA with the right spirit and by never giving up.
Is it even possible to get top grades as an international student in China?
It sure is!! Coming to China to study at a university is both an amazing and a daunting prospect. China is a country with a rich and vibrant culture, and its universities are some of the best in the world. However, adjusting to life in China can be challenging for international students. The teaching methods and expectations are often very different from what you are used to, and it can be easy to feel overwhelmed by the workload.
In addition, China is a very fast-paced country, and it can be difficult to keep up with the pace of life here. Most of the universities in China have a 5.0 GPA system and getting a 5.0/5.0 GPA might seem like a fever dream, but don't despair! With a little bit of effort, you will soon find your feet and settle into university life in China and excel in it. Just remember to take things one step at a time, and you'll be sure to succeed.
In this article, our team has compiled the tips and resources that will make sure you excel as an international student. All of the listed principles and tools are collected on the basis of research conducted by the WiseAdmit team among the top-performing students in different universities in China.
DISCLAIMER: You won't find any shortcuts or the intellectual equivalent of a "get rich quick" plan here that will directly get you the full grade. As you know 5.0 GPA is 100%, it requires at least a 100% commitment if not more to get it.
Top 4 Wise Principles to Follow to Succeed
1. Make a Pre-Session Studying Plan
If you're planning on studying at a China university, it's essential to create a pre-session studying plan. Research shows that prior knowledge influences both conceptual growth and conceptual change in students. You can find a group of friends who are interested to stay in such sessions and you can help each other out. This will help you make the most of your time and ensure that you're well-prepared for your courses. Here are some tips to get you started:
• Check the subject list taught each semester on the program page. Start by making a list of all the subjects you need to study. Break each subject down into smaller topics and subtopics, and then create a schedule for covering everything.
• Next, find high-quality resources to use for your studies. This can include textbooks, online articles, and lecture notes from previous students.
• Create a system for taking and organizing your notes (explained in further points). This will help you keep track of what you've studied and identify any areas that need more attention.
• Finally, make time for practice exams and review sessions. These will help you gauge your understanding of the material and identify any areas that need further work.
2. Pay Total Attention in Class
It is a no-brainer that you pay attention in class. Even if you understand everything at some points during the pre-session study, it is a must that you pay attention to the faculty about what s/he has to tell you about the topic. You must have heard this principle since when you were a kid. It is most applicable in your university life. Unlike high school, you will not have much time to stay idle or to revise. Besides, the professors at the university have been dedicating their lives to the subject, so anything they have to say about it is worth a million. So, paying attention in class and raising questions regarding any confusion will help you understand the course matter effectively. Teachers are very welcoming regarding student/s queries in China as many innovative ideas have been found this way.
3. Make Notes
China university students are expected to take notes during class. This is because professors usually provide a great deal of information in a short period of time, and it can be difficult to remember everything that is said. Additionally, notes can be helpful when studying for exams or writing papers. However, taking effective notes requires more than just writing down everything that is said. Students need to be able to listen carefully and identify the most important points. Additionally, they should abbreviate and organize their notes in a way that makes sense to them. By taking the time to develop good note-taking skills, students can ensure that they are getting the most out of their classes.
Making notes are an essential part of staying in a lecture. Even though you might feel like you are going to remember all of it, it is very easy for your brain to forget what was said in the class, especially due to your commitment needed not only in excelling in your studies but also in part-time jobs, projects, extra-curricular activities, etc.
4. Pomodoro Technique of Time Management
Most importantly, managing your time properly will definitely reflect on your grades. The Pomodoro Technique is a time management system that encourages people to work with the time they have—rather than against it.
Using this method, you break your workday into 25-minute chunks separated by five-minute breaks. After about four Pomodoro's, you take a longer break of about 15 to 20 minutes. Such division can be made for different chapters on a regular basis.
Top Five Resources to Follow the Principles
While there might be numerous other principles for you to follow to study better, these four if implemented with full commitment, can be the foolproof method for you to get straight As in your undergraduate/graduate degrees. However, the key is to study smarter and not harder. There are many resources and tools that will help you achieve your goals as an international student. So, in order to follow the listed principles, we have enlisted 5 resources that help you study better in university.
One of the main things a student needs to do is manage the resources, and that includes time. So, for this matter, any tool you can find is fine. Students can always use google calendar, which requires no expertise to use and is also free. Make sure to include all the activities that you do along with attending a class like the work hours, gym, recreation, sleep, etc. Students can also use apps like 30/30 to manage time on the basis of tasks like assignments.
This tool has been a staple of the student experience for years, and it's no surprise why. Evernote allows you to organize your education process by keeping notes from class or storing images/videos that come up in media citations while also helping with collaborative projects if assigned as part of group work!
There is no doubt that Coursera is the best learning resource for students on the internet. It provides courses from reputed universities that are free of cost. It helps you expand your knowledge and learn from a different point of view. Moreover, it can be a great way to prepare for exams. The best thing about Coursera is that it offers a wide range of courses that are flexible and can be taken at any time. Students can also take advantage of online discussions and forums to clear their doubts. Overall, Coursera is an excellent learning platform for students of all levels.
If you're a new student studying in China, Zhihu will be an invaluable resource for you. It's best described as a cross between Quora and Reddit, and it's full of people who are eager to help answer any questions you might have. Whether you're looking for information on your coursework, or just want to know more about Chinese culture, Zhihu is the best tool for finding the answers you need. And, if you're feeling generous, you can even tip the authors of particularly helpful answers. So if you're ever feeling lost or need some advice, be sure to check out Zhihu.
Khan Academy is one of the best tools available for students who want to improve their academic performance. The organization produces short, engaging video lessons on a variety of subjects, including math, art, computer programming, economics, physics, chemistry, biology, medicine, finance, and history. What sets Khan Academy apart from other educational resources is its focus on helping students master specific concepts rather than simply providing information. As a result, students who use Khan Academy regularly tend to see significant improvements in their grades and test scores. In addition, the organization's lessons are available for free, making it an affordable option for all families.
Conclusion
To conclude, students can start to study smarter after enrolling in a university with these proven tools and principles. After reading this article if you think you have what it takes to study in China and get a top-ranked degree, then look no further. The Foundation Program which is a 6-month Pre-Engineering or Pre-Business diploma program provided by NUAA will allow for direct admission to one of the bachelor's degrees with a guaranteed scholarship along with other benefits. You can apply through our platform to study this program free of cost. Following our tips, you can set your life for success upon graduation at NUAA(ranked 3rd globally in Aerospace study).
_________________________________________________________________
Note: Applying to international students' preferred undergraduate program in China has never been this stress-free! Wise Admit is a game-changing platform that helps prospective students find the best universities and apply for free to the top-ranked programs.
Click Here to find out where international students qualify to study in less than 60 seconds.