Reasons to study at Nanjing University of Science and Technology (NJUST)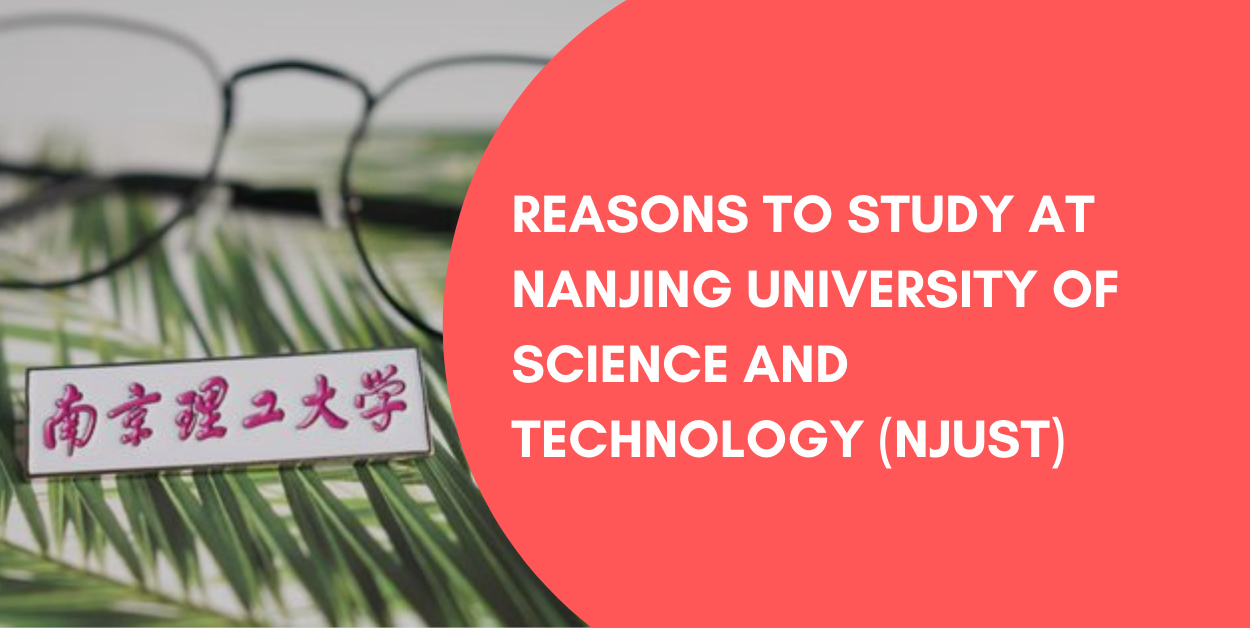 Nanjing University of Science and Technology (NJUST) was founded in 1953 and is home to a talented and diverse community of students and scholars. Members of the tech community are linked by a commitment to intellectual energy and brilliance, and they work together in the classroom, research labs, and community outreach to uncover new information.


Nanjing University of Science and Technology (NJUST) is located in Nanjing, the capital of Jiangsu Province and a historic and culturally significant city. The school is bordered on the north by the Zijin Mountain and on the west by the Ming City Wall. The campus is 3118 acres in size. There are Qutang ridges, thick trees, beautiful grass, and a pleasant landscape on the campus. They are connected to the Sun Yat-sen Mausoleum Scenic Area, which is an excellent location for self-development and education. The school building has an area of 870,000 square meters in total.


The Ministry of Industry and Information Technology oversees Nanjing University of Science and Technology, which is one of China's most important universities. It was named to the first group of universities to be included in China's "211 Project," which aims to create a hundred world-class universities by the twenty-first century. The university was formed from China's People Liberation Army's Institute of Military Engineering, which was established as China's foremost military technology institution. Artillery Engineering Institute, Engineering Institute of Eastern China, East China Institute of Technology, and East China Institute of Technology were all names given to the institute before it was renamed in 1993.


This is a multi-disciplinary university with a focus on engineering. It also includes science, engineering, liberal arts, economics, business, management, law, and education. NJUST has 14 primary schools that offer 16 postdoctoral programs, 49 doctoral programs, 116 master's programs, 74 undergraduate programs, MBA, EMBA, and MPA programs. There are about 30,000 students, including 1120 international students.
More than 3,200 faculty members of Nanjing University of Science & Technology have a distinguished academic records and instructional expertise. The college has also received recognition from a number of major professional organizations. Most programs that were once only available to local students are now open to international students as well. Meanwhile, roughly one-third of the overall postgraduate programs and 10 undergraduate majors are now available in English, as part of the university's efforts to boost its international leadership. For overseas students, non-degree courses like Chinese language classes and Summer-school courses are also available.


With a broad mind, a broad vision, a pragmatic style, and a spirit of seeking truth, the school will continue to carry on the fine traditions, seize the historical opportunities of the Chinese nation's great rejuvenation, advance with the times, forge ahead, and move unwaveringly towards the country. First-class, worldwide renowned, high-level research universities are making strides toward their strategic goals.
Nanjing University of Science and Technology (NJUST) is a great university to further your studies not just because of its diverse options of courses and disciplines but also because of its environment and culture. If you think this is the right university for you please click on the link below to start the first step of your journey as an international student in China.
_________________________________________________________________
Note:
Applying to international students' preferred undergraduate program in China has never been this stress-free! Wise Admit is a game-changing platform that helps prospective students find the best universities and apply for free to the top-ranked programs.
Click Here
to find out where international students qualify to study in less than 60 seconds.